I can help you if...

...you're confused on how to begin your genre novel, and you have a great idea (or at least an idea that you're in love with and won't let you go)
...you don't know how to write regularly, but yearn to develop a writing practice
...you feel lost about how to bring your creative ideas to the page
...you desire to edit and revise your novel and get it published, but are overwhelmed by the whole prospect
If this is you, then you may be ready for a Clarity and Changework Session with Master Neurolinguistic Programming (NLP) practitioner, and Certified Creativity Coach for writers, Beth Barany.
I work with aspiring genre fiction writers, those who have already written several manuscripts, or who are already published in genre fiction (indie or traditional.)
***
As a book coach, creativity consultant, and teacher, I help you find the place of stillness within and unlock powerful yet subtle transformations that lie in the pauses between the noise of your mind and of the world. 
I can help you discover that you already have the means to express your unique and empowering stories with your novels, that you already have a creative process, and that you can harness your passion, persistence, and courage to transform the world one reader at a time.

Let's work together to make that a reality.
***
"Before my NLP coaching session with Beth, the revision process was overwhelming, stressful, and scary. I had trouble even opening my book to re-read it, much less edit it. But after working with Beth, my outlook completely changed for the better. In just one session, Beth helped me develop a plan for revising that made the process seem exciting and fun. The very next day after our NLP session, I got to work on the revision that I'd been putting off for so long. And not only did I revise the early chapters--I also had fun doing it! I suddenly found ideas that had been buried before under all the anxiety. I am so grateful to Beth for helping me see my revision in a new light. With her help, I feel like I've not only discovered the potential joys of revising, but I've also learned skills that will help me long into the future of my writing career."
- Leanne Howard, fantasy romance writer, author of Heavenly Bodies and other stories
*
Ready to talk to a writing coach who understands genre fiction?
I am here to help you experience clarity, have a clear road map of your next steps, and be that much closer to delighting your readers.
***
I offer sessions to help you with any of the following:
-- you're getting started with your first novel (yah!) and don't know how to proceed
-- you're struggling with overwhelm and frustration at maintaining a writing practice
-- you have a completed manuscript but are not sure how to edit it or you want detailed feedback on it
-- you want to publish your novel but don't know how and want a guide to walk you through your options
-- you're looking for an agent or publisher and need help polishing your query and submission package and finding appropriate agents and publishers
-- you want to get clear on your marketing and promotional needs for your novel(s) and for your author career, but don't know where to start
***
TESTIMONIALS
"Receiving coaching from Beth Barany is like catching sight of a lighthouse after being lost in the fog of your writing career for months.
She has an amazing ability to identify the underlying technical or psychological issues that are tripping you up, and to bring you to a place of clarity so you can identify where you need to go next.
Beth is one of those rare people who listens deeply -- she hears what you're saying and focuses on your unique situation and your personal strengths and weaknesses. Because of this, her guidance is pure gold."
-- Bonnie Johnston, Urban Fantasy and Romance Author



"Beth has a way of evoking motivation and inspiration out of me, by just being, listening and encouraging in a subtle way which is perfect for me.
I think she understands what I need as a writer.
I find myself working harder and accomplishing much more in such a short amount of time, my story is pushing right out of me. She is one of my allies."
-- Karen Lodrick, Writer, Speaker
"In my one-on-one sessions with Beth, the vigorous review of my manuscript along with the masterful feedback has made me feel like I am in an MFA program."
-- Hugh Tipping, Fantasy Writer
***
LOGISTICS
Sessions 2 hours (120 minutes), are over the phone or a Zoom private channel.
To help you with your project, I am available to review pages or notes ahead of time -- up to 5 pages. I have a non-disclosure agreement available if you'd like that, too.
As part of our work together, I also do an assessment with you to help gain clarity and support you in your next step.
***
INVESTMENT
A session is $500.
I recognize that this is a big investment in your author career. Congratulations for considering this step.
If you have questions about working with me, contact me.
If you're not sure if one-on-one sessions or one of my other services like a home study class or the Group Coaching Program are right for you, schedule a one-on-one no-obligation Discovery Session here.
Together, we can explore your writing dreams and goals and what kind of support would work for you.
I am a writing coach and teacher who helps fiction writers experience clarity, so you can write, revise, and proudly publish their novels to the delight of their readers.
I've helped hundreds of writers over the last 20 years to achieve their writing dreams and I am excited to help you...
An award-winning novelist, master neurolinguistic programming practitioner, and certified creativity coach for writers, I focus on creating useful hands-on information that you can implement right away. 
I run an online school for fiction writers and a 12-month group coaching program to help you get published.
More resources on publishing, book marketing, and novel writing on my blog, Writer's Fun Zone. 
When I'm not helping writers, I write magical tales of romance, mystery, and adventure that empower women and girls to be the heroes of their own lives.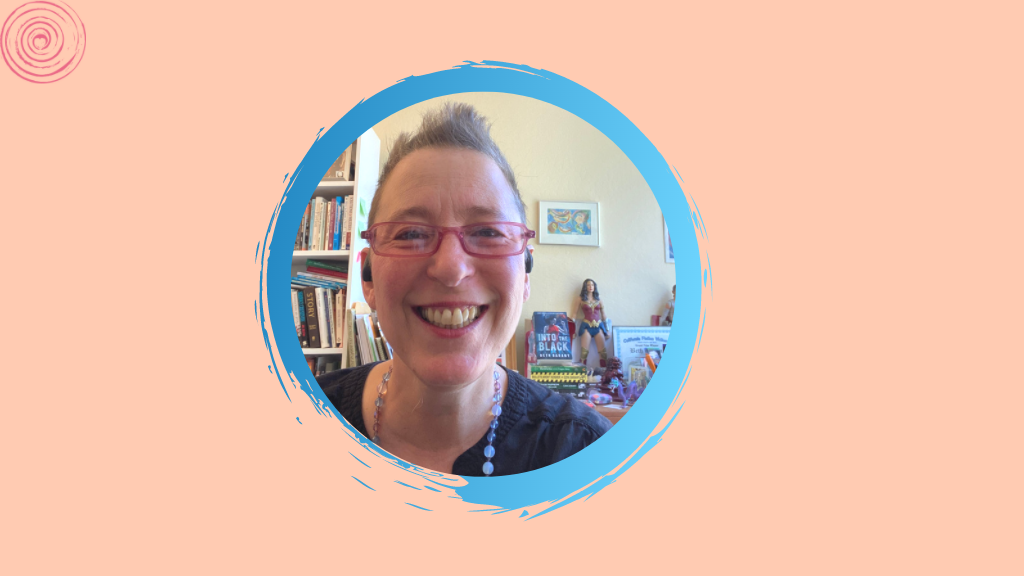 Frequently Asked Questions
Can I get a refund if I'm unhappy with my purchase?
As our work together is highly customized, entails deep change work, and takes the time it takes, I don't offer refunds.
Please be sure this session is what you need.
How do I schedule my appointment?
Upon purchasing coaching, you'll receive further instructions on how to book a time for your appointment.
Once we schedule, I'll send you a Zoom link.
Calls can be recorded, if you wish.
Can I purchase coaching more than once?
Absolutely! If you find yourself in need of coaching more than once, simply purchase the coaching again.
You can also sign up for a series of coaching calls at a package price.
I also offer packages: 3 sessions for $1,200 (20% off); 6 sessions for $2,100 (30% off). Payment via credit card or Paypal.
What is NLP?
NLP stands for neuro-linguistic programming.
It's a way to help you have what you want without having to "work" to be different than who you are.
I've been trained in heart-based transformational NLP that is gentle, respectful, and above all, useful.
HOW NLP BENEFITS YOU
NLP can help you have the life you'd like, in ways that are gentle and respectful of all of you -- past, present, and future. Benefits:
You will become more emotionally available to do the work you desire.
You'll be able to come back home to your writing self and your Source.
You'll be more of who you want to be.
You'll ignite your core motivation for writing.
You'll uncover or rediscover ease at coming to the page.
You'll become more focused and productive with your writing.
You'll be able to let go of mental blocks and beliefs that keep you from expressing and publishing your ideas.
You can find your writer voice.