The Senses of Sight
Let's start with sight, the most obvious sense, and the one writers use the most.
When I'm editing clients' manuscripts, I notice writers heavily use and even over-use sight for their point-of-view characters.
You many notice that you use this sense a lot when you're writing your first draft.
---
DID YOU KNOW...
Did you know there are two visual senses?
One for color which is our cones, and one for brightness, which is our rods.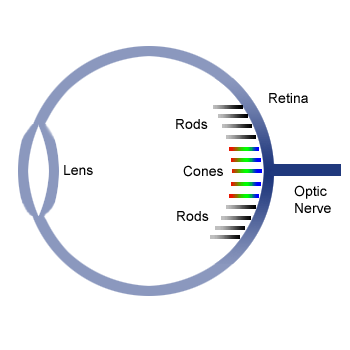 How can you use this awareness in your fiction?
I've been having a conversation with my husband, Ezra, also a writer, about this sense.
He and I observed that women notice color way more than men, while men tend to notice brightness, which includes detail.
Let's take color first.
For example:
Julie says, "Oh, look at that beautiful turquoise silk blouse."
Jack replies, "The blue one?"
Men tend not to notice color distinctions, but those distinctions tend to be very important to women.
This is a generalization, of course. There are going to men who are good with colors as well.

This distinction is a fun thing to use in stories to show character and voice.
Then for brightness.
It might be a man will notice certain details that a woman won't notice. Use nouns, verbs, and adjectives in specific ways to highlight this in your writing
For example:
A pinprick of light sparkled from the attic window.
(Instead of "A light shown from the window.")
Another example: If you have a character in a dark alley, they're not going actually be able to see much because there is no light. If they had exceptional vision they might be able to see more contrasts than somebody who didn't.
Editor, C. S. Lakin says, "Noticing the quality of light and its source is powerful in narrative."
Have your character notice things like daylight, dusk, shadows, clear spots in a dark scene, where a spotlight might be, or the absence of a spotlight." (From Mamzelle, in a webinar)
Migraine sufferers also pick up on brightness. When I'm coming down with a migraine, I can't handle bright light. I wear a baseball cap a lot because I'm generally sensitive to brightness. If I were using this trait in a character, I could have brightness equals pain.
DID YOU KNOW...
"The retina contain the molecules that undergo a chemical change upon absorbing light, but it is the brain that actually makes sense of the visual information to create an image." (SOURCE: Chemistry of Vision)
---
YOUR STORY and YOUR POINT-OF-VIEW CHARACTER
Now your turn.
Think about for your point-of-view (POV) character.
Is sight a predominant sense for him or her? If so, how can you show that?
How can you show the nuances of sight (brightness or color)?
How does you POV character make sense of what they see?
If you'd like, share an example in the comments, and any questions you have.
---
ADDITIONAL RESOURCES
"Visible Light and the Eye's Response": http://www.physicsclassroom.com/class/light/Lesson-2/Visible-Light-and-the-Eye-s-Response
"Chemistry of Vision": https://chem.libretexts.org/Core/Biological_Chemistry/Photoreceptors/Chemistry_of_Vision
Complete and Continue